The Magic Kingdom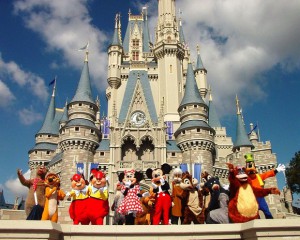 Where is the happiest place on earth?  For many people the answer is simple, it's Disneyland!
Walt Disney was famous for making animated movies.  Mickey Mouse and Donald Duck were originally characters in Disney films.  Disney wanted to make a place with rides for children and for families to have fun together.  He built Disneyland near Los Angeles, California and it opened in 1955.  The original theme park was made up of Main Street, U.S.A., Adventureland, Frontierland, Fantasyland and Tomorrowland.
My father was at Disneyland's opening day ceremony.  He was a member of a Boy Scout band that played in the first Disneyland parade.  Recently I was surprised to find a video on YouTube of the live broadcast of the opening day ceremony.  You can see it at this link:  
http://youtu.be/JuzrZET-3Ew
  Of course I couldn't find my father in the video, but they did show a few seconds of the Boy Scouts.
I don't remember the first time I went to Disneyland.  I must have been three or four years old.  I only have a black and white picture of me with Pinocchio.  Since then I have been to Disneyland many times.  But the admission fee is too expensive now.  It will cost one adult $87 for a one-day ticket!
Now there are many Disney parks around the world.  Walt Disney World was opened in Florida in 1971.  12 years later, Tokyo Disneyland became the first Disney theme park to open outside of the U.S.  It was followed by parks in Paris and Hong Kong.  Currently, a park is being built in Shanghai.  It will open in 2015.  I have been to Tokyo Disneyland a couple times and Tokyo DisneySea once.
I like the classic rides the best like Pirates of the Caribbean and The Haunted Mansion.  The new rides are exciting too.  They use 3D movies and moving seats to make the ride interactive.  The Toy Story ride is fun because you can shoot at targets.  What is your favorite ride?
Disneyland has grown a lot since that opening day.  Mickey and his friends are popular all around the world.  Millions of families every year are able to enjoy the dream that Walt Disney built.  Do you think it is the happiest place on earth?
Questions:
When did Disneyland open?
How many Disney theme parks are there in the world?
How much does it cost for two adults to go to Disneyland?
Where will the next Disney theme park be?