Happy Valentine's Day!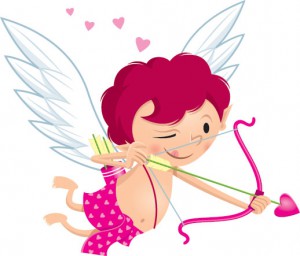 Valentine's Day is on February 14.  In western countries, this holiday is celebrated as a day of love and romance.
One way to express love is to give gifts.  Many people exchange Valentine's Day cards.  Inside the card they write a special message to the person they love.  A box of chocolates in a heart-shaped box is another popular gift.  But unlike Japan, traditionally men are the ones who give chocolate and women receive them.  A red rose is a symbol of love so flower shops are very busy on Valentine's Day.  If you give flowers, a dozen red roses is best.  Some people also give jewelry.  Nothing says "I love you" like a diamond ring!
On this day of love, couples everywhere go on romantic dates.  Lovebirds dress up and enjoy a candlelight dinner at a nice restaurant.  Another romantic option is to stay in and the man makes a home-cooked dinner.
Do you plan to go on a romantic date for Valentine's Day?  Here are some ideas you can try:
1) Let's dance!  Take a dance lesson together.  Preferably one that requires a lot of hand holding.
2) Get physical!  How about indoor rock climbing?  It's fun and requires a lot of supportive communication.
3) Go camping!  Set up a tent inside your home.  Get an indoor star projection machine and watch the stars together from the comfort of your living room.
4) Save your memories!  Collect pictures of your time together and make a scrapbook.  Decorate the scrapbook together.
5) Make music!  Write her a love song and sing it to her.  Or if you can't play an instrument, go to karaoke and sing love songs.
QUESTIONS
What do we celebrate on February 14?
In the USA, who gives chocolate on Valentine's Day?
What gifts are given for Valentine's Day?
What is a "lovebird?"
What is your idea of a romantic date?