American Christmas Traditions
In Japan, Christmas is celebrated with beautiful outdoor Christmas light displays -- you call them "illuminations" -- and by eating Christmas cake.  In America, Christmas is both a religious and secular holiday.  We have a lot of traditions.  You already know about Santa Claus, gift giving and Christmas trees, but here are some other things about Christmas that we do in my country.
Caroling
Do you like singing Christmas songs?  There are so many songs and some of them everyone knows like "Jingle Bells" and "Rudolph the Red-nosed Reindeer."  During the holiday season, you can hear them being played in almost every store while shopping for presents.
Caroling is when people get together to sing Christmas songs.  They walk around the neighborhood and go door to door singing songs to their neighbors.  (To go "door to door" is to visit all the houses on the street.)  Caroling is a great way to spread Christmas cheer (the good feeling of Christmas).
Taking a Picture with Santa
Every Christmas parents bring their kids to the shopping mall to take a picture with Santa Claus.  Each child has a chance to sit on Santa's lap and tell Santa what they want for Christmas.  Do you still believe in Santa Claus?  Ho! Ho! Ho!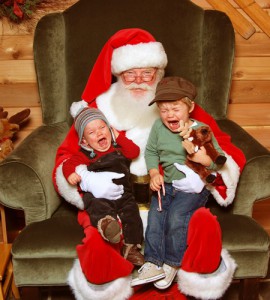 Egg Nog
Have you ever tried egg nog?  It is a drink made from milk, cream, eggs, sugar, nutmeg and a little bit of rum to warm you up.  Egg nog is a seasonal drink that is only served during Christmastime.
Fruit Cake
Fruit Cake is another seasonal food.  This dessert is usually given as a gift.  But many people don't like eating fruit cake.  I don't like it either.
Christmas Movies
Every year, there is always a new movie about Christmas.  The most famous Christmas movie is "It's a Wonderful Life" starring James Stewart.  This movie is played every Christmas and I have seen it many times.  My favorite Christmas movie is "Elf."  It's a comedy and was made a few years ago.  What's your favorite Christmas movie?
"A Christmas Carol"
This is a story written by Charles Dickens in 1843.  It is a story of a mean old man who is visited by four ghosts and learns the true spirit of Christmas.  Many movies and TV shows have been made about this classic story.
Ugly Christmas Sweaters
Everyone, at one time or another, has received an ugly sweater as a Christmas gift.  Many of these sweaters are decorated with Christmas images like reindeer or Christmas trees.  These sweaters are cheesy -- that means they are in bad taste.  You would never wear it outside of the house!  Now, some companies make ugly Christmas sweaters as a funny gift.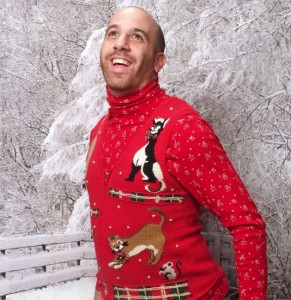 Toy Drives
A toy drive is a project to collect toys to give to children.  Some families don't have enough money to buy toys for Christmas.  Many people buy new toys and donate them to the toy drive, then volunteers wrap them and pass them out to needy children.  A non-profit organization called Toys for Tots organizes most of the toy drives.
Whatever traditions you and your family have during Christmas, I hope you have a warm and wonderful holiday this year!. Merry Christmas everyone!
Questions:
What are the ingredients needed to make egg nog?
When was "A Christmas Carol" written?
What group organizes toy drives in America?
Who is the star of "It's a Wonderful Life?"
What are the titles of some famous Christmas songs?