Happy Halloween!
Halloween is on October 31st. When I was a boy growing up in America, Halloween was my favorite time of year. I can remember so many fun things about Halloween. My father would bring home a giant orange pumpkin. We would cut it open at the top and pull out all the seeds by hand. Then we carefully carved a funny face to make a jack-o-lantern. After we finished, the jack-o-lantern was proudly displayed with a candle inside on our front porch to greet all the visitors.
Halloween is a holiday with lots of ghosts and monsters. Sometimes I could visit a haunted house. Not a real house filled with ghosts, but a special maze was built with wood and cardboard for the children to walk through. Inside it was dark and scary. Monsters -- just people wearing masks -- hid behind the walls and jumped out to scare us! I was scared, but it was a lot of fun.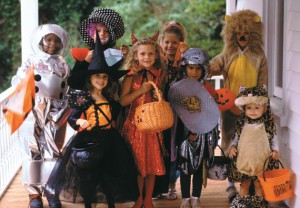 The best part of Halloween was going trick-or-treating. This is a tradition where kids wear costumes and walk around the neighborhood asking for candy. Every year I wore a different costume. One time i was a cowboy and another time I was a robot. I made the robot costume by myself, but unfortunately, I don't think I have any pictures of it.
My brother and I would carry very big bags for all the candy we were going to get. We would knock on the door and when the door opened we yelled in very loud voices, "Trick or treat!" After getting our candy we ran to the next house for more. We must have visited all the houses in the neighborhood. At the end of the night, our bags were filled to the top with free candy!
But I think my favorite memory was that every year for Halloween, my father would make pumpkin pie. I loved eating his pumpkin pie, especially with whipped cream on top. I should learn how to make it myself, but my Japanese oven is too small.
Here in Japan, Halloween is becoming more popular. You can see a lot of Halloween decorations in stores and restaurants. Bakeries sell Halloween cookies in the shape of pumpkins. In October, Tokyo Disneyland is transformed into a Halloween theme park, but at Disneyland, all the ghosts and monsters are friendly. There is even a huge costume parade just for kids in Omotesando.
I heard that in some neighborhoods, kids wear Halloween costumes and go trick-or-treating. I hope it catches on and more Japanese kids can enjoy this holiday. Halloween is still my favorite holiday even though I can't go trick-or-treating anymore.
Questions:
1) When is Halloween celebrated?
2) What is a jack-o-lantern?
3) What do kids say when they ask for candy?
4) Do you think Halloween is becoming more popular in Japan?